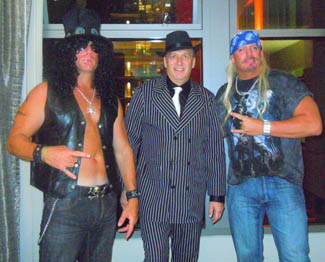 Hard Rocking Party!
Hard Rock Hotel Packs
Ghouls for Halloween!

by Brad Maxwell, 2011

The Hard Rock Hotel Halloween Party in San Diego has got to be one of the Hottest Hard Rock'n Halloween Parties around! There are a lot of big outdoor street parties like the one in Hollywood, California or even the one right here in the San Diego Gas Lamp District, but for a party inside a hotel where you can party like a Rock Star, The Hard Rock San Diego tops the list!

Hard Rocking HalloweenTo begin with, the hotel is simply amazing. I do a lot of traveling and have stayed at a lot of chain hotels, but when I am in San Diego I can't resist staying at The Hard Rock Hotel. The rooms are comfortable, quiet and clean and the service staff are some of the nicest and most customer service focused around. Great restaurants like Mary Janes and Nobu and of course, all of the nostalgic and fun Hard R
ock decor.

But be warned, if you are at the Hard Rock during Halloween, you are not going to be alone. They have like three levels of parties going on including the giant the 4th floor pool area with a wrap around bar. Hard Rocking HalloweenThe party starts at around 9 PM and then by midnight, you are shoulder to shoulder with kitty cats, gangsters, bunnies, groupies, rock stars, sailors, witches, and you name it.

Every level has security who must go though some kind of "how to treat a rock star nice" training. Because everyone we talked to were extremely kind and patient. Even when they asked my wife (Kill Bill, Uma Thurma), with a ninja sword, and me with my gangster toy tommy gun, to take our props back to the room, they were totally cool about it and explained their policies. They were so nice we had no choice but to do as we w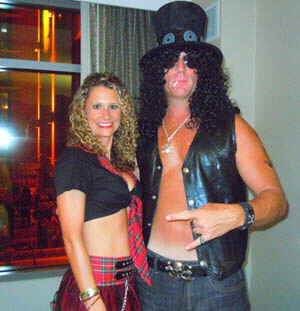 ere told. They killed us with kindness.

I must say though I wish their marketing team had taken more Hard Rocking Halloweentime to communicate with the party planners and understand maximum capacity. Well, maybe they did but I must say, by the end of the night I could hardly walk back to my room, there were so many people in the party. Since we were hotel guests, we were allowed in early, but from the 4th floor balcony, we could see the giant crowd of people waiting outside behind the velvet ropes to get in at about 10 PM. It was insane and wrapped around the hotel.

At about midnight we went to the 4th floor wraparound bar and it took like 15 minutes to get a drink with so many people trying to get the bartenders attention. This is when I thought I would have paid extra to be in a special VIP party area where the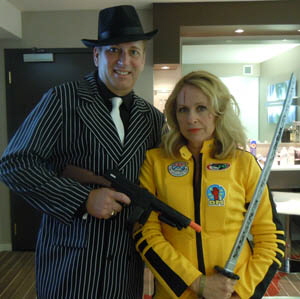 crowd was strictly limited so I could really party like a Rock Star. Of course they did have table bottle service but that would have brought the cost way over our budget Hard rocking Halloween

I think all the hotel guests got free late checkout including our posse of totally hot and rock'n Rock Star relatives who were Slash and Brett Michaels! I also wished that when we were leaving the hotel they had a stock of free water to re-hydrate for all of us guests who waiting for valet to bring our cars. Many hotels offer free water the day following a big event and even the gift shop was closed so we had to stop on the way home.

You got to live this at least once in your life, but whatever you do, stay at the Hard Rock and don't get stuck behind the velvet ropes.