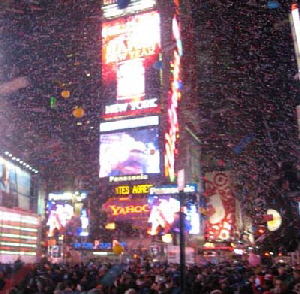 New Years Party
in Times Square!

by Brad Maxwell, 2009

When you've been to a lot of New Years Eve parties, like: the party at a friend's house; the party at a restaurant; the party at a hotel ballroom, and the party at the pub. Then I think you are ready for the granddaddy of all New Years Eve parties -- The party at Times Square, New York.

Our trip from Los Angeles included a group of friends all ready to experience the magnificence of Times Square. Since we are all fair weather lovers, apprehensive of the dreaded East Coast chill, we began looking for an option to standing in the numbing cold for 12 hours at 7th and Broadway. After reviewing the restaurant and hotel party possibilities, two distinct plans seem to emerge. Either pay the multi-thousand dollar price tag for a big hotel party with a view (Renaissance or Marriott) or pay a couple hundred dollars to go to a restaurant party where you will be locked inside and not allowed out, watching the ball drop on a TV.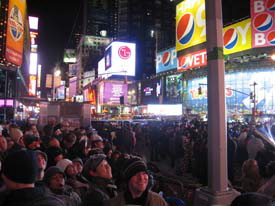 But, we got lucky. We actually found the best of both worlds at the Bubba Gumps party.

One reason the Times Square celebration is so great is that it's highly controlled by the New York Police Department (NYPD). You have to stay in the special viewing areas unless you have a hotel or restaurant pass, whereby you have to keep walking unless you're waiting to go through a check point barricade. There is no drinking and the NYPD are everywhere. Although they are there to maintain the order, they also seem to be the unofficial hosts of the party. They are ready to answer your questions, escort you through a checkpoint or stand and take a picture with you.

Tickets to the Bubba Gumps party were quite a bit more than the other restaurant parties at $500 a pop. But they do have giant windows that overlook the Ball Drop and are the only party location that guarantees the best view of Times Square.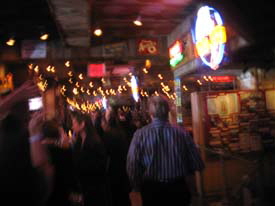 To ensure this, they remove the tables from in front of the windows and sell only 250 tickets so that everyone is also guaranteed a place to site and room to view at the window. This is not to say that the windows weren't crowded, they were. In addition to the windows, there was one other possibility. If the NYPD feels the situation is secure, they will let some of the Bubba Gumps attendees out onto the sidewalk to view outside. To do this you have to walk past three Bubba Gump check points, past the private Bubba Gumps security at the door and always have your ID, pass and wrist band with you. This is not guaranteed and may not happen, but it did for us and boy was being in Times Square at midnight the place to be. This is the first of our "triple cheer" that makes the Bubba Gumps party the absolute best! Location, location, location.

The party started at 9:00 PM with free premium drinks, beer, wine, and champagne. There were waiters carrying hors d'oeuvres of coconut shrimp, stuffed mushrooms, and delicious spinach and feta spanikopita.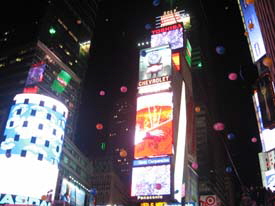 The sea food station had all you can eat lobster, Alaskan crab legs, and poached prawns. There was a caviar station with six different types and a Gump's server to prepare your plate. And of course there were also vegetables, fruits and cheeses . The dinner buffet started at about 10:00 PM with Mahi Mahi, a roast beef carving station, chicken, pasta, vegetables, rice, salads, and a multitude of desserts. The food at this party was the second of our "triple cheer".

All through the evening we were entertained by a fortune teller and a DJ with a dance floor full of seafood stuffed party-goers. There was a professional photographer and a character artist so everyone had a picture to cherish forever. And when the conga line came by, I was pulled into the slithering snake of dancers winding through the restaurant. There was rock n' roll, limbo and if you didn't have a ready partner, a Gump's person was ready to join you. In fact the final and biggest cheer, of our "triple cheer" were the people working at Bubba Gumps. They were the bomb!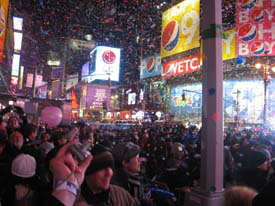 It seemed as though we had one person assigned to our table always ready to help. Each and every Gump's giver was the nicest, kindest, and happiest person we had seen at any party, let alone at Times square.

At 11:45 PM we were allowed out to stand one block below the Ball Drop in Times Square. It started with balloons dropping and swirling in the wind. The count down started on the big screen with everyone counting with it as 2009 became reality. Tons of confetti was dropped into the crowd as the wind continued to prevent it from landing. It swirled around as if there was a tornado in the streets. It was a once in a lifetime event for us and a memory we will never forget.

We stayed in New York for a few more days and did the usually tourist outings.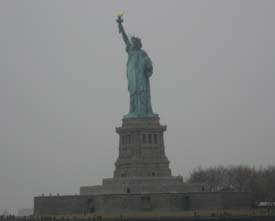 We visited the Statue of Liberty and Ellis Island cutting our wait time by purchasing reserved-time tickets -- this is a must. The Empire State Building was a huge line, but again we purchased a ticket bundle that allowed us to see a movie about New York and skip some of the long lines. And of course we rode a buggy through Central Park, visited the Rockefeller Center, shopped at FAO Schwartz and had lunch at an Irish Pub.

All-in-all, this was our best New Year ever. Three cheers to Bubba Gumps!